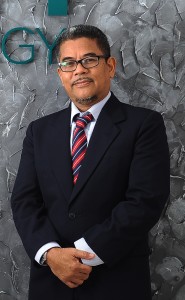 Ir Syed Salim bin Syed Abu Bakar, a Malaysian aged 57, is the Vice President of Operations of our Company. He graduated with a Degree of Bachelor of Engineering with Honours in Mechanical Engineering from the University of Liverpool, UK in 1980. He attended the INSEAD Senior Management Development Programme in 2004.
He has 28 years of experience in various oil and gas core divisions in PETRONAS including upstream E&P, petrochemical, refining and research and technology. Having gone through all the phases of E&P field development and production environment, he developed expertise in the area of managing upstream oil and gas fields production and operations activities domestically as well as internationally.
He began his career with PETRONAS Carigali in 1983 where he held various positions within PETRONAS Carigali in the Operations and Development Department which include the Head of Operations, Head of Joint Venture Operations Project, Head of Project Coordination, Senior QA/QC, Senior Mechanical Engineer and Facilities Engineer. He was responsible for managing the production and operations of major offshore oil producing fields and floating storage and offloading (FSO) facilities. He also managed major operators in the Joint Venture Department as Head of Sabah/Sarawak Projects with the responsibility of being the representative of PETRONAS Carigali at the joint ventures.
In 1998, he left PETRONAS Carigali and joined BASF-PETRONAS Chemical Sdn Bhd, a joint-venture company of BASF SE and PETRONAS Chemicals Group Berhad as the Plant Manager for the OXO – C4 Plant where he led a team to start-up and operate the world-scale petrochemical plant. In 2001, he joined PETRONAS Refinery (Terengganu) Sdn Bhd as a Senior Manager of the Technical Division and was responsible for leading various teams in ensuring sound engineering services for optimum asset utilisation. He worked closely with the production team on benchmarking for best practices in the area of Energy and Loss which is critical to the efficient running of refineries and aromatic plants.
In 2006, he joined the PETRONAS Research & Technology Division as the Operating Performance Improvement (OPI) Manager and was responsible for formulation of strategies to manage PETRONAS Operating Performance Improvement programme for the entire E&P sector. His responsibilities include the review and analysis of oil and gas production deferment of PETRONAS PSC operators and to develop a new PSC performance management reporting format to ensure minimum deferment and that PSC productions are properly managed. He had also prepared a comprehensive Upstream Benchmarking exercise to further improve PSC production efficiency, cost and HSE. After a year, he moved to Khartoum, Sudan to work as the Production Manager for Greater Nile Production Operating Company Limited where he managed the crude oil production operations activities for the company in the Muglad Basin Sudan. His last appointment was as the Field Manager for Eastern Cluster of PETRONAS Carigali's operations in Sarawak from 2010 to 2011 where he was responsible for the production operations activities for Baram Field. Upon his retirement in 2011, he was employed on contract by PETRONAS for recruiting experienced engineering professionals.
He is a member of the Institution of Engineers, Malaysia and a registered professional engineer with Board of Engineers Malaysia.