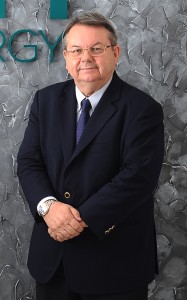 Ronald Lee Schakosky, an American aged 65, is the Vice President of Business Development of our Company. He has extensive experiences in energy portfolio development and management, corporate and strategic planning, asset and personnel management, mergers and acquisitions, and business development. He has a strong network and business relationships with key stakeholders of IOCs and NOCs, PSC operators and funders both in South East Asia and the Middle East.
He has over 30 years of international experience in both downstream and upstream areas of the oil and gas industry, having worked in South East Asia, Middle East, Africa and in the US. He has extensive knowledge and experience in the oil and gas engineering, field development, fabrication, offshore installation, commissioning, operations, maintenance, construction and government relations. Since early in his career, he has held various positions that had profit and loss responsibility, and supporting the leadership of the company he worked for in terms of strategic direction and growth, more specifically in extending their present portfolio of clients and area of work. He has worked for oil majors such as ExxonMobil, Atlantic Richfield Company, Union Oil Company of California and NOCs such as PETRONAS, Vietnam Oil and Gas Group (PetroVietnam) and Pertamina.
He started his career as a Production Engineer with Conoco Inc. followed by an intercompany transfer to Dubai Petroleum Company in 1974 before moving to Algeria to take up the role of Technical Consultant with Bechtel International in Algeria on a large LNG plant. He then moved to South East Asia in the early 1980s working for Esso and has remained in this region working in Indonesia, Thailand, Vietnam and Singapore holding various positions in project development and execution.
In 2005, he moved to Newfield Peninsula Malaysia Inc, Malaysia as Development Manager for the East Belumut Field Development, which entailed a multi-tasking role of managing projects and dealing with PETRONAS. In 2007, he moved to Swiber Holdings Limited, Singapore ("Swiber") as the Vice President and Group Marketing Officer. He was responsible for Swiber's business expansion plan and spearheaded ventures in the Middle East and South East Asia in the oil and gas industry. Having obtained a niche in the area of business development, he was headhunted to join Leighton Offshore Pte Ltd as General Manager of Business Development in early 2011 where he was responsible for the business expansion plan in the Asia Pacific region and the Middle East.
Prior to joining Reach Energy, he was employed under contract by Daya Materials for marketing oilfield services.