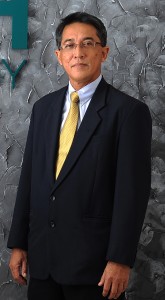 Abd Rahim bin Shamsudin, a Malaysian aged 57, is the Vice President of Petroleum Engineering of our Company. He obtained his Diploma in Petroleum Engineering from University Technology Malaysia in 1978 and later graduated with Bachelor of Science in Petroleum Engineering from Louisiana State University (LSU), US in 1985.
He has been directly involved in PETRONAS' E&P business for over 30 years, mostly with PETRONAS Carigali, but also including six years with PETRONAS Petroleum Management Unit and two years in international operations. He has extensive knowledge and direct relevant experience in petroleum engineering, gas supply planning, joint venture management and asset management.
He started his career with PETRONAS Carigali in 1978 as a Petroleum Engineer and Petrophysicist, providing hydrocarbon assessment to the Petroleum Engineering Department in Kuala Lumpur. Later, he was posted to PETRONAS Carigali's operations in Terengganu, Sarawak and Sabah from 1989 to 1999. During this period, he undertook various roles including as Upstream Gas Planner, Production Technologist, Asset Manager and Technical Services Manager. His notable achievement was, amongst others, leading an integrated subsurface team for the successful development and implementation of the Baronia FDP which resulted in the realisation of additional reserves and oil production capacity, successful drilling and completion of the then longest horizontal well, the application of new technology in well completion, and successful implementation of a water and gas injection system.
In 1999, he moved to the PETRONAS Petroleum Management Unit where he was in charge of the management of gas planning and PSC operations. He was responsible for the overall domestic gas supply planning driving PSC operators to deliver short and long term gas supply commitments to Peninsular Gas Utilisation (PGU) and LNG. During this time, he was also directly involved in the negotiation of the West Natuna gas sale and purchase agreement.
In 2005, he returned to PETRONAS Carigali to manage the Angsi oil field development. Later, he was appointed as the Joint Venture Manager to represent PETRONAS Carigali in the PSC operations carried out by Shell Malaysia and JX Nippon Oil & Gas Exploration (Malaysia) Limited. He then moved to Turkmenistan in 2009 to set up the Petroleum Engineering Department for PETRONAS Carigali (Turkmenistan) Sdn Bhd, spearheading oil and gas asset development and production. During this period, he initiated the conceptual development study for early monetisation of new oil and gas Reserves. He also successfully completed phase 1 of the gas field development, which provided upstream production capacity of 600 MMcfd of gas and 50 kbd of condensate. Upon his retirement in 2011, he was employed on contract by PETRONAS for recruiting experienced petroleum engineering professionals.
He served as Chairman, SPE Kuala Lumpur Section in 2002.